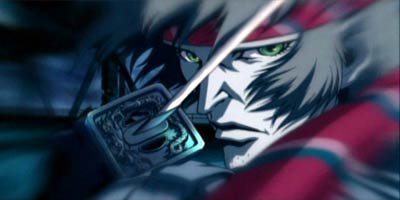 I pulled out a packet of Cocoa Tea and sat down with Highlander - The Search for Vengeance, directed by Yoshiaki Kawajiri and written by David Abramowitz last night . Mr. Kawajiri, a simple guy, always sporting his trademark light-tinting glasses, is known for a more popular anime title - Ninja Scroll. Other works under his belt include Demon City Shinjuku, and Vampire Hunter D - Blood Lust. All magnificent titles. The thing about watching Mr. Kawajiri's work is the shear amount of detail that he whips his staff to put into the animation of everything. In Ninja Scroll, the amount of detail that was displayed in that peace was magnificent and a captured so many fans that it still rivals many a tale today. It would be safe to mention to you all that a sequel is also scheduled for that masterpiece later in this year. With the onset of 3D Software for use in Anime, his team has taken the more subtle approach by including 3D only in scenes that are needed and at brief moments. His style is unique and still easily recognizable around the world even through the use of 3D.
David Abramovitz goes way back. He's worked on previous Hihglander stories, and even on the Murder She Wrote series. It seems a ripe time for David to make these stories as he is also slated to release another tale for that other Higlander, Duncan McCleod, this September, titled: Highlander - The Source. The only thing better than these two getting together is the Anime itself. The resulting story, and effort put behind this play is nothing less but stellar, as it fits very well into the myth of Highlander.
I usually swear by watching foreign films, animations, games, and independent movies in their native languages, but there are times when the westernized voices actually add to the quality fo the movie. In here, you will find people speaking in proper accents as the story is told throughout different periods in time. Though most people will not appreciate this, it shows how much effort was put in Westernizing this peace. The score borrows from various parts of the live action series and incorporates new ideas throughout. Overall, this is a must see flick for any fan of Ninja Scroll, Kawajiri-San, or just well done productions in general.