Sir-G
All of you know I'm a huge Naruto fan but the NA games are taking the fighting game to another level … overTheTopAction is an understatement …
[kml_flashembed movie="http://www.gametrailers.com/remote_wrap.php?mid=29319" height="392" width="480" /]
The Fatal Frame series has taken a more passive approach to the survival horror genre. As the game never featured zombies or mutated monsters which required you to shoot them with a gun or some other form of bullistic weapon. Instead the series focused on using a camera(camera obscura) which had the abilities to weaken and destroy the many ghost that haunted players in the game. The series had gotten off to a low key start, but really came into it's own as it progressed. It's took on a style that was similar to that of Japanese horror films or the Ring movies. There were times when I admit the game sacred the sh!t out of me. And it wasn't on a cheap jump out the closet type of scare either.
Tecmo and Nintendo officially announced they are developing the next in the Fatal Frame series "Fatal Frame: Mask of the Lunar Eclipse" together. Thats right, not only is Nintendo publishing the title but they are also lending their development hand into the game as well and to top it off Suda 51 of Grasshopper fame will also be lending his directorial skills to the mix as well! With this attention to the franchise, it could mean that the series could get that extra polish it always needed. After the sucessful incorporation of the wii-remote with Resident Evil 4: Wii Edition, one could see what control scheme they'll come up with especially now that Nintendo is in the mix. As a fan of the original series, this sounds like good things for the franchise. We'll keep ya posted!
Source
Sir-G
Some Commercials just get it right, and with Super Bowl season right around the corner, our boy DW sent us this very funny update to the Reebok 30 second spots. Will it make me by Reebok gear? Maybe not, but it is memorable and doesn't scream. (BUY ME)
Things were quiet for the past two weeks but that's just the quiet before the storm that is called PS3. On all fronts, even in the impending recession, Sony is making money, and Nintendo is still making more (ha!). People just can't enough of those DSs and WIIs. Big guns are upon us though, and its not just Ninja Gaiden II, but the next few months will see huge releases (if they can hold) at a time when new games are supposed to be non-existent in game stores across the world. The last two weeks have seen an immense display in preparation for this coming, whether it's been more rumors or talk, demos, or videos, things are heating up.
The demo for Turok hit the online networks and it would seem that most people like it. Personally, I find the CQC kills a little on the easy side and it boils down to nothing but timing. Long time fan of the series, our WII bowling General, FuriousLee, gave it a thumbs up.
That's huge since you probably didn't know that this man has lost money, time, women, patience, and God knows what else for the series. Though he was thoroughly disappointed with the last few games, Furious feels that this Turok may stand a chance to redeem the series.
January is almost at a close and the title is due during the week of the 27th, so it probably wouldn't hurt to try out the demo if you have the time before release day. Before that, Burnout – Paradise also got released silently, and flashingly, on an unsuspecting public and got descent reviews from just about everyone. The ranked score when compiled together totals up to about 89%; above average thanks to GameRankings.com. Which means that this title is worth a look, or at least a manual gear shifts or two.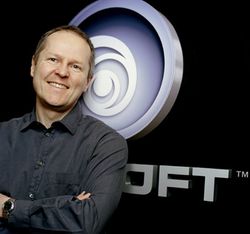 Ubisoft is one of those strange companies, and not because they are French, to release really great games that are loved by most and hated by others. Regardless of your stance on the company, it remains a fact that they bring out solid titles for a multitude of gamers. Founded in 1986, Ubisoft is currently under the helm of Yves Guillemot, who founded the company at the age of 26. Ubisoft was a third party software company at first but slowly expanded its reach across the globe, even purchasing Red Storm Entertainment in 2000. Red Storm Entertainment are the guys responsible for the Tom Clancy games.
Nintendo, why do you taunt us so!!!! RELEASE THIS GAME ALREADY! Fresh out of the offices in the land of the rising sun comes this new video which shows a heated wi-fi match between 2 Nintendo internal dev teams stationed in Tokyo and Kyoto. I have to say this is on hot looking level. I'm a huge Star Fox fan so to see and hear classic Star Fox brings a tear to my fanboy eye. But you don't have to be a fan to admit that this is one impressive looking level for a fighting game. I said it before and I'll say it again, this game can't come soon enough!
Sir-G
Sega diffidently has the better characters for sure, it's just well anything the fat plumber touches seems to turn to gold. Let's see how this tennis game turns out it seems to be on the right track the only thing that can ruin this game is it's controls. Which seems to be Sega's biggest problem nowadays. I just hope they get it right this time, I believe this can be yet another title in favor of Nintendo's gimmick control…. sorry 360/PS3.
Furiouslee
What an interesting format war it is [was]? Apparently, even in the light of a recession and tough times on Home Loan Payments, people go out of there way to make Blu Ray#1 as it continues to take all type of market shares. The numbers are real they say, but take it with a grain a salt to. Still, reports from friends working in places like Best Buy and Circuit City tell me the same, people are buying Blu. So says the boys and girls at NPD to -
[youtube width="425" height="335"]http://www.youtube.com/watch?v=ALGdrMl7WLA[/youtube]
I'll have to admit that capcom's effort on remaking classics is not a bad idea. The well known company has been around for a a while and sees no problem in bringing out the big, and the small guns.
Truth be told, Capcom is closer to many of our hearts than we may be ready to admit. Turns out there was a side project going on for the gaming networks in the form of a side scoller called Bionic Commando – Rearmed.
Take a look at the video here and rest assured that this one will surely bring back those when flat plane was all that stoof between you and ultimate victory.