L'esfants at Playfrance.com put some seriously draw dropping images of the soon to be released PSN title Wipeout HD including an interview with Studio Liverpool. To say the least, the screens look good and of course is by far the best looking Wipeout port ever made. Though I'm still having fun kicking back with Pulse, it was great to finally have the ability to see more on the HD upgrade.ÂÂ Online will support 6 man bouts and given the break neck speeds that I experience on the PSP, I can see why the cap is so low. Expect to hear complaints though SCEE since I'm sure PSN players will request more as time goes by.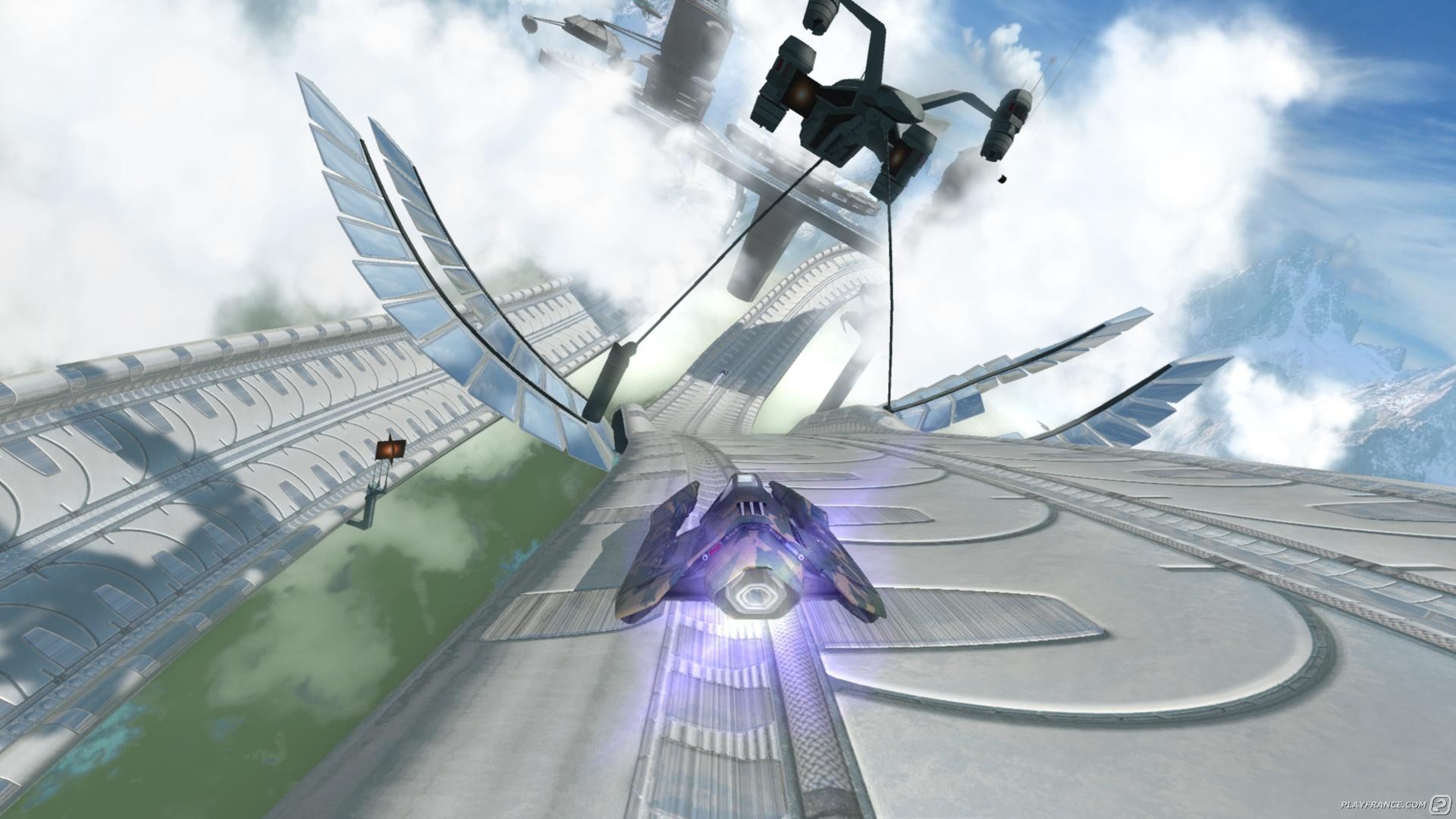 Whut up folks!, check the latest episode of Gameslap! and enjoy.
Peace out and HAPPY HOLIDAYS!!!

More videos from the "Game Slap!" channel at Heavy.com
The year is almost over. Before we take a look at what happend last week take a look at the the New TrueGameHeadz GameSlap Guide and fill your stockings!
[kml_flashembed movie="http://www.heavy.com/ve/ebf3e2ee1e6cdc5ae3738160977201c8" height="512" width="512" /]
Finaly the full version of this trailer.
[kml_flashembed movie="http://www.gametrailers.com/remote_wrap.php?mid=29006" height="392" width="480" /]
The return of Cloud??? No one knows, but its FF so need I say more?
[kml_flashembed movie="http://www.gametrailers.com/remote_wrap.php?umid=146833" height="392" width="480" /]
Well, I had to cross the border via my local import store to get a copy of Wipeout Pulse for the PSP and dare I say it was worth every last dime. This game, like Pure which took all the elements of Wipeout 3 and made it better, took pure and improved it.
The online battles are a welcome, though when I logged on, only a few gamers could be found. A majority of your time will be spent on career mode as there are several races to play. The game also has a simple replay element built around the loyalty stats for the cars you use. You are rewarded for your deligence. My biggest disappointment so far is the exclusion of playing your own music from your PSP memory card. Maybe this is due later through the update system but at this point my hopes are down. Expect a full review soon. Below you'll find some screens taken with the in-game photo-mode.
Someone should have told the young man at Blogeek.com.br about marketing vengence. The Brazilian based blog site was the first site to post pictures of Street Fighter IV if you didn't know. Capcom marketing didn't take it too lightly, following up with a few warnings, threats, and suits scaring the one-man site into dark corners of Street Fighter. The point is, he blogged about something that a ton of people would have found out about anyways across the blog-verse. Maybe they were trying to time online blog news?
The boys over at 1UP have the very first screenshot the upcoming Street Fighter 4. Good news is the game doesn't look as crappy as this gamer thought it would be. Bad news is it's only one screenshot!
Here is the press release by Capcom:
And fail horribly they did as the ESRB released results for the Annual Report Card. A lot of retailers aiming to meet those bottom lines and sales figures may disagree with the ESRB but three years of consistently scoring D on the report card leaves you to wonder.
And what a saucy, spicy, paprika filled week it was. Where to begin? David Gertsmann is the game reviewer that we all didn't know who we claimed to know and love at Gamespot reviews this past week. In the spice filled portion of this weeks gaming soup, Gertmann was fired from Gamespot for reasons less comparable to poor job performance. As a matter of fact, the saying goes is that he was let go from his position simply because he gave Kain and Lynch a less than stella score.